If you are wondering where to stay in Da Lat that you can contemplate all of its beautiful nature as well as easily reach the well-known destinations, in this article, I will show you the answer to 5 attractive resorts in my viewpoint, hotels or even just homestays here that you can experience.
1-Swiss-Belresort Tuyen Lam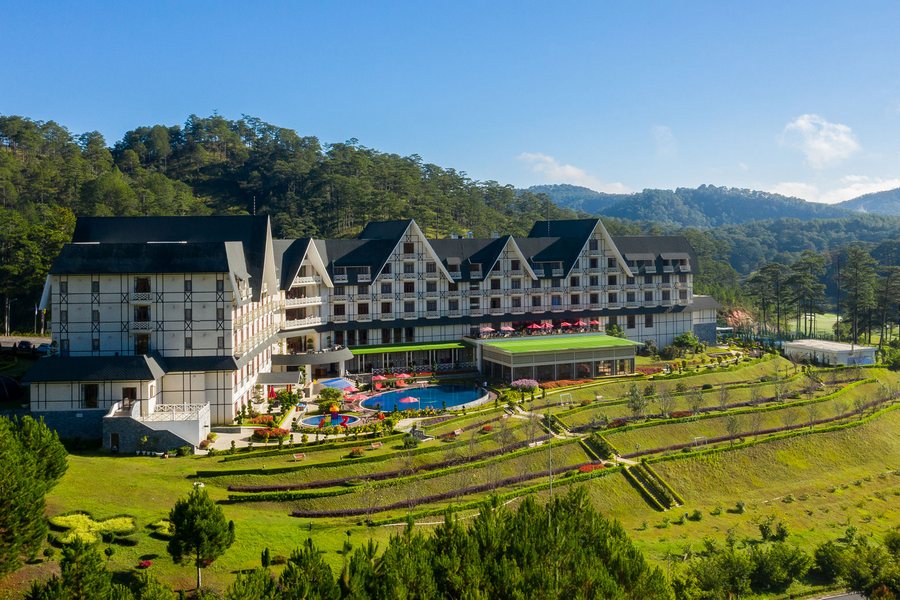 The first accommodation I want to recommend for you is Swiss-Belresort Tuyen Lam. It is also one of the most luxurious resorts in Da Lat that is a fabulous complex of villas, swimming pool, lush gardens, forest, valleys and fantastic service such as the large golf course. Even though it is far from the city center but in addition, it really has such an elegant and incredibly stunning landscape that gives you the delightful viewpoints of Da Lat that not many people could experience.
2-Terracotta Hotel & Resort Dalat
If you want to travel with your whole family, this hotel is the right one for you. It is designed like a house with a lot of glasses that help you to view all the different points around the villa. The situation of this building is also easy to get to other well-known destinations. Moreover, it has a lake and forest viewpoints that can amuse your children and relax your wife easily as well. Terracotta would make your trip more professional and memorable for sure.
3-Ana Mandara Villas
This villa is the truly original French architecture building that lies in the center of Da Lat Highland area. Surrounding the villas is a pine forest that makes it more mysterious and dramatic. Furthermore, it is able to provide you with luxurious services such as buffet parties, large swimming pools, spa, massage centers, etc. Trust me that you would have your absolutely exciting adventure here.
4-Wilder-nest Homestay
Wilder-nest is the new homestay in Dalat and just started to be active in 2017. People said it looks like a stair to paradise that you could feel amused right away at first sight. The homestay lays down next to the romantic green lake and among the gorgeous valleys with absolutely lush forest. If you are an Instagram addict, it would become a fantastic studio for you. You should stay at this homestay if you get to Da Lat because it is totally worth it.
5-Andante Farm & Lodge Homestay
This unique tiny homestay is located in the peaceful countryside in Da Lat. This place is the most suitable for the one who is into a quiet and relaxing space. It is incredibly wonderful because of the view of the glorious pine forest. That is the reason why Andante Farm & Lodge Homestay becomes one of the top homestays in Da Lat. You can lay down all day long amusing on the bed and quietly ponder the vaporous forest as well as have some warm coffee that would make you feel completely comfortable.
If you want to get to Da Lat, Vietnam and check-in available for any accommodations, do not forget to take a Vietnam Visa. I have an amazing option for you is getting a crazy fast visa through https://www.getvisavietnam.com that you just need to fill the online form and they will do everything for you.